FIRST PORCELAIN TELEPHONE
A conventionalized aster flower on a stalk with a bud and liana curling around peony, combined with a composition constisting of peaches and pomegranates.....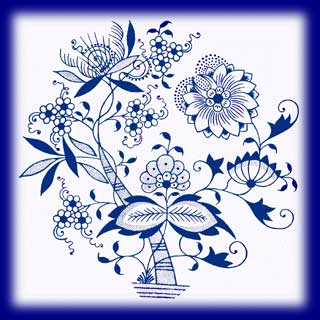 How many people have drawn immense delight from a pattern adopted by Meissen Porcelain Works from Chinese designs between 1738 and 1739, which has since adorned porcelain for an unbelievable 250 years? The charm of this unusual decoration, the socalled onion pattern (rightly referred to as the "decoration of generations"), continues to enchant every subsequent generation of customers.
The first porcelain telephone was born out of the co-operation between two purely Czech companies, ASCONN Ltd.Co, Praha (Technical Part), and the joint-stock company Czech Porcelain, Dubí.
The body of the telephone is manufactured from refined material - porcelain decorated by using a special technique known in Europe for over 270 years. The onion motif is distinguished by its simplicity, restraint and originality. The years have shown that the blue and white decoration is refreshing and makes a pleasant impression of home.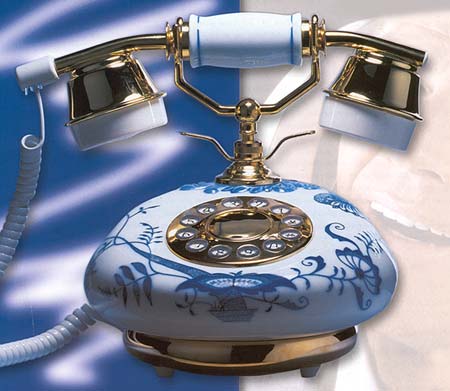 Do you like this porcelain telephone?
The porcelain telephone is an addition to the "onion" range, which the Czech Porcelain manufactures in the largest variety of shapes in the world. Dining sets, drinking sets, ornamental and utility porcelain is supplemented by cutlery, glass-ceramic plates, trays, tableware and now telephones.
We believe that the new porcelain telephone will fulfil your expectations from both the technical and aesthetic point of view. We hope that this novelty will be a worthy addition to the "onion" range and a welcome present.
Interior Telephone Set

Basic phone

Ring volume adjustable

Pulse/tone switch

Standard overvoltage protection

Redial

Pause

Button dialler

Table installation
Your price is only $291.72 and now you have special discount 15 %($43.76) and also a gift!!!
IF YOU WISH TO ORDER THIS PORCELAIN TELEPHONE, CLICK HERE FOR DETAILS!!
Klicken Sie für das große Bild.